There is one thing that I'm sure about… After a good Free Walking Tour, nothing is better than a good coffee ! And for this, there is Rakwé… Coffee shop, colaborative space, art gallery… But what is this place which was established at 26 rue René Leynaud a year ago ?
Rakwe, The best cafe in Lyon for the experts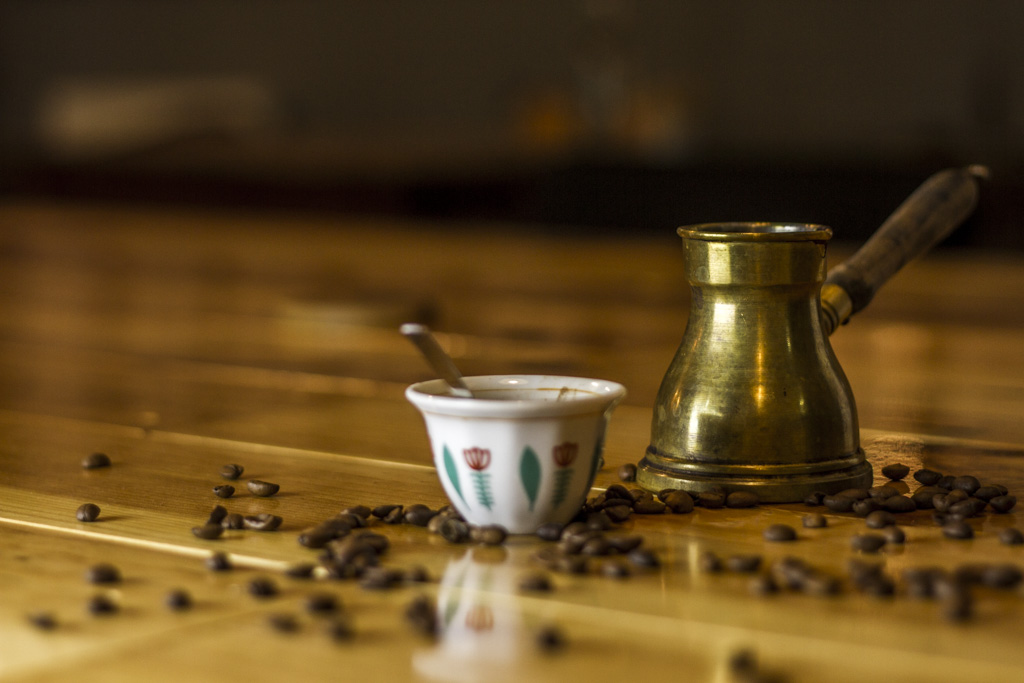 Rakwe is, above all, the best place to taste amazing coffees… with coffee beans imported from all over the world. Sometimes, the beans are even home-roasted. Brazilian coffee, Italian espresso, Lebanese… Every kind of coffee for every kind of taste. Even the name Rakwe is a reference to this universal drink. Indeed, Rakwe is the name of a Lebanese coffee maker. (Yes, for free, you also learn things !)
Experts will be able to talk for hours with Élias. This guy is so passionate about his work ! How do you want your coffee ? Immersion ? French press ? Infusion ? I have to admit, I'm not an expert at all and still, I love to listen to him explain everything about the different techniques. But not to worry ! You don't need to be an expert. If you don't know anything about coffee, he will help you and give you some recommendations based on your tastes.
And if coffee is not your thing, it's not an excuse to not come. It is in Rakwe that I tasted the best Chai Latte in Lyon. And one of the best hot chocolates too… Ok, I haven't taste all the chocolates or Chai Lattes in Lyon… But believe me, I have tasted many of them !
Rakwe, less expensive collaborative space in Lyon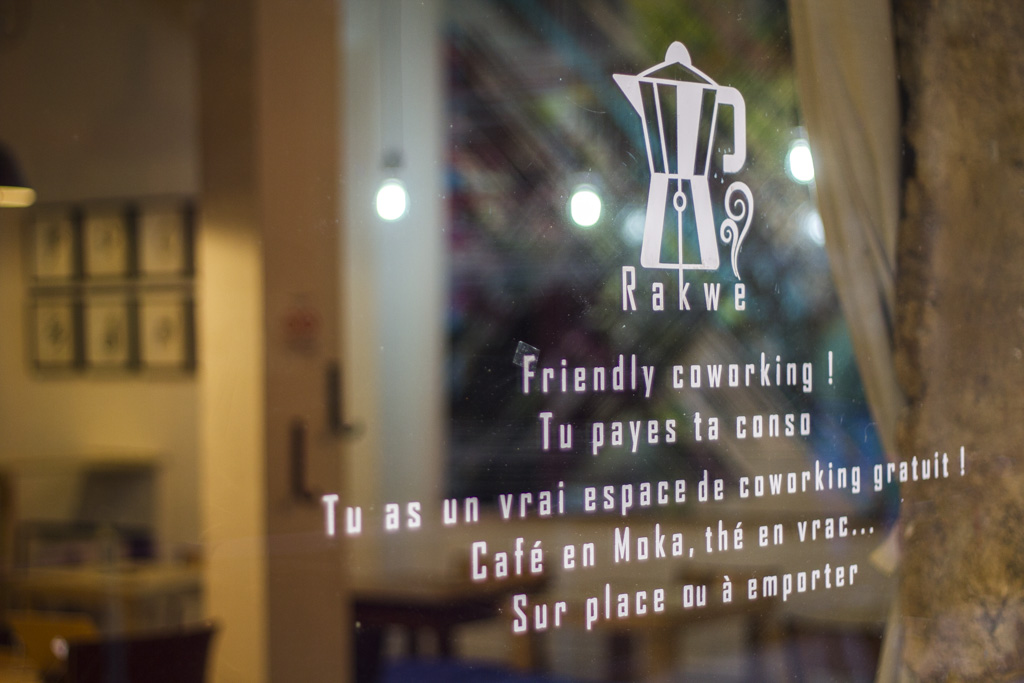 Yes ! It is not just a coffee-shop but it's also the best collaborative space. And the least expensive one… Because, yes… it is free ! Wifi is very good, it's a lovely place to work and you'll never be by yourself. Many students are coming here every day, freelancers, creative people…
In Lyon, most of the collaborative space will charge you between 5 and 10€ per hour. Here, you can just take a coffee or anything else and stay as long as you want. No pressure. No need to take a look at the clock every minute. It's just perfect. And, in fact, that's where the website LyonExplorer was created one during very long afternoon.
Rakwe, authentic and original art gallery in Les Pentes
The slope ("Les pentes") of La Croix Rousse is a very famous place because of its intense cultural activity. I have to say, I'm very proud and happy to live in this area ! The street Burdeau is full of little art galleries. I love every one of them. They are so interesting ! But Rakwé has not to be ashamed…
Obviously, the coffee shop and the collaborative space is quite new, but the art gallery activity is not that new. Élias Sfeir has been between these walls for seven years now. And he's always happy to meet new artists and to create exhibitions for them. The result : very diverse kinds of exhibitions and ever-changing pieces of art. And he always chooses artists that he loves. It's not a commercial art gallery that tries to sell you stuff… It's pure art…
Subjective conclusion from someone in love with Rakwe
I arrived seven years ago in Lyon. I tried many cafes, I discovered many nice places… I tried many collaborative spaces. And finally, I found the best… A place which reflects my own personality. A place which shares the same values and beliefs as me. A very human and comforting place. A place where you can speak English or French. A little cocoon where working is a pleasure.
So, I know it's look like a big advertisement but it's not… Like I did before for the Dam's pub and like I'll do for my favourite wine bar, I write about what I like. About the places that I discovered after a long time spent searching for it around Lyon. Places that I really love. And, in fact, I'm writing these lines at Rakwe… So, when will you come to say Hi ?